Explore the top spots in
Ljubljana
72 photo spots 462 inspiring images 4 events 12 contributors
---
Top places to photograph in Ljubljana in 2023
These are the very best Ljubljana Instagram spots, curated by the PhotoHound team. If you've got limited time here, these are the must-see locations to shoot while you're in Ljubljana!
Prešeren square is the most popular place in Ljubljana's historic centre. It was named after Slovenia's most famous poet France Prešeren, whose monument is a favorite meeting point for locals. The square is surrounded by beautiful Art Nouveau buildings, Franciscan church and Triple bridge.
Learn more about Prešernov Trg
From the castle hill there are nice views on two sides of Ljubljana, NE with the views of Poljane and Kamnik-Savinja Alps and towards SW towards Trnovo district. The later one is a classic view, that has been featured on the cover of Lonely Planet Slovenia.
Learn more about Castle Hill
The Robba Fountain, one of Ljubljana's best known Baroque monuments, also known as The Fountain of Three Carniolan Rivers, was created in 18C by the Venetian-born sculptor and architect Francesco Robba. The fountain is a subject of many Ljubljana postcards and is worth of any photographer's attention.

Learn more about Robbov Vodnjak (Robba fountain)
Ljubljana's Town Hall (Magistrat or Rotovž), is used as the seat of the Municipality of Ljubljana. It was built in the late 15th century, it assumed its present appearance between 1717 and 1719. It's front facade and clock tower are important landmark of the town square and interesting subject for photographers. The public inner courtyard is a place to many temporary art installations and always worth checking out.

Learn more about Mestna Hiša (Town Hall)
The cathedral of Ljubljana is 18C baroque church built by italian architect Andrea Pozzo. From the outside the most impressive parts are the two bell towers and the main doors. Check the "Slovenia" doors on the west and "Ljubljana" doors at the south side. Interior might surprise you with rich frescoes, altars and huge organ. My favorite is the fresco of the ceiling painted by Giulio Quaglio, Italian painter.
Learn more about Stolnica (St Nicholas cathedral)
The Dragon Bridge, adorned with famous dragon statues, appears in the most recognizable images of Ljubljana. If you haven't been photographed next to a Dragon Bridge dragon, you can hardly claim that you have visited Ljubljana. The four dragon statues, which look slightly terrifying and almost real are a great subject and can be a good lesson in photography.

Learn more about Zmajski Most (Dragon bridge)
As the name suggests, Terasa bar has a terrace with incredible views on Ljubljana. The best one is towards the Old town and the castle. They also serve nice cocktails, cakes and most of the usual drinks. This can be a nice sip'n'shoot.

Learn more about Nebotičnik - city view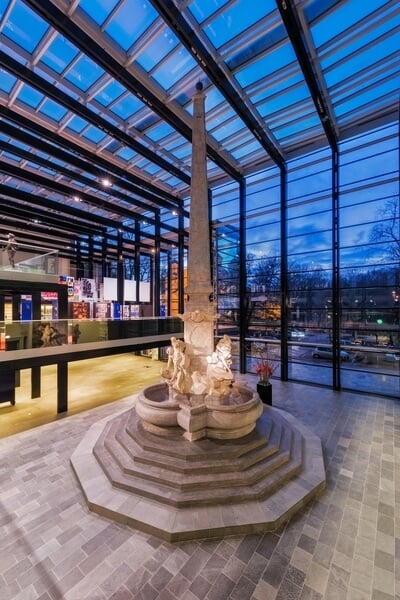 Narodna galerija (National Gallery of Slovenia) is the main art museum in Slovenia containing the largest visual arts collection from the late medieval period to the early twentieth century. One of the most intriguing works of art is the original Robba fountain (the one at town hall is a replica) placed within a modern extension of the gallery.

Learn more about National Gallery - Robba's Fountain
Trnovska cerkev (Trnovo Church or Church of St John the Baptist) is a picturesque two-steeple church situated in Trnovo district. Together with Trnovo bridge (the only one with trees growing on it) it is an attractive subject for photographers.

The history of Trnovo Church is connected with one of the best known romantic stories of Ljubljana. It was in front of this church that the Slovenian poet France Prešeren, one of the greats of 19th century Romantic literature and author of the poem later adopted as Slovenia's national anthem, first met his muse, Julija Primic, and fell in love with her.

Learn more about Trnovska Cerkev (Trnovo Church)
The new mosque in Ljubljana (Ljubljanska mošeja, also džamija) was completed in 2020. This is the only Islamic religious building in Slovenia and is serves mostly the former Yugoslavian communities, that came to Slovenia for work in sixties and seventies. The mosque is built in minimalist, modern design and its main prayer hall can accept 1000 people.
Learn more about Ljubljana Mosque
---
We hope you enjoy photographing these great Ljubljana Instagram locations. We love seeing your images of the most Instagrammable places in Ljubljana, so make sure to share your images on PhotoHound and tag us on Instagram @photohound and hashtag #photohound for a chance to be featured.
---
Share this photo guide
---