Explore the top spots in
Coyote Buttes North & The Wave
19 photo spots 82 inspiring images 7 contributors
---
Top places to photograph in Coyote Buttes North & The Wave in 2023
These are the very best Coyote Buttes North & The Wave Instagram spots, curated by the PhotoHound team. If you've got limited time here, these are the must-see locations to shoot while you're in Coyote Buttes North & The Wave!
Arriving at the entrance and setting your eyes for the first time on the amazing colorful strations is a shock to the system After heavy thunderstorms, a pool may be present at the entrance, providing an opportunity for shooting superb reflections as long as there is no wind and the water is still clear.
Please take a moment to consider that tens of thousands of people from all over the world dream of seeing the Wave and the vast majority will never make it. It's an incredible privilege to experience the Wave and it's up to you to preserve it for those who will follow. Be respectful of this pristine site. You won't need boots, wear lightweight footwear that won't leave marks. Avoid walking on the thin ribs and ledges of sandstone that make the Wave so special. Also, be careful where you place your tripod, if you carry one.

Learn more about Coyote Butte North - The Wave Main Entrance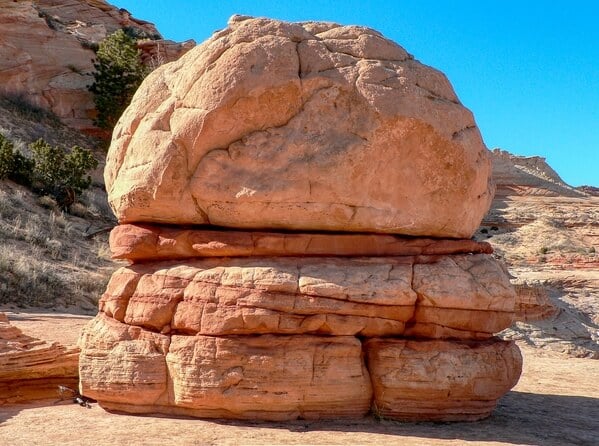 A foray inside Wire Pass will give you a quick, but spectacular insight into the narrows of the Paria River area. Buy your self-permit (no quota) and follow the dry bed of the wash for about 1 mile before reaching the entrance to the first narrows. These narrows, a few dozen yards long, will give you a little preview of what awaits further on. Soon, you enter the true narrows of Wire Pass and move along between very dark walls, over a hundred feet high. Depending on how the last flash flood affected the canyon, you may have to scramble above choke stones as high as 8 feet at the first and/or second narrows; in some years, this may present a challenge to some. You'll eventually reach the junction with Buckskin Gulch at 1.7 miles from the trailhead (37.018986, -112.002518). Look for some faint petroglyphs at the base of the right wall, just at the junction. Follow Buckskin Gulch downstream as long as you like or time permits, the walls are higher and even more impressive than in Wire Pass. You'll likely encounter pools and mud-holes that will give you an inkling of what it looks like further down Buckskin Gulch and deep inside Paria Canyon.
Learn more about Wire Pass Slot Canyon
An interesting tripod arch, part of the multi-foot High Heel Arch collapsed some years back, making it even more photogenic.
Learn more about High Heel Arch
Cobra Arch is a remarkable arch, in the shape of the lithe body of the snake of the same name, complete with checkerboard striations reminiscent of the serpent's scales. Its span is about 60 feet long. It is often visited by backpackers coming off Buckskin Gulch by the difficult Middle Trail. Photographers will want to take the more conservative approach of coming via Long Canyon Road, but even that is not an easy affair. After driving on this dirt road, it's a cross-country hike over rough terrain with no trail, requiring a topo map, a track if you can find one online, and good navigation skills. It's one location where a GPS will prove really useful. Still the result is worth it, as Cobra Arch is truly unique.
Learn more about Cobra Arch
---
We hope you enjoy photographing these great Coyote Buttes North & The Wave Instagram locations. We love seeing your images of the most Instagrammable places in Coyote Buttes North & The Wave, so make sure to share your images on PhotoHound and tag us on Instagram @photohound and hashtag #photohound for a chance to be featured.
---
Share this photo guide
---