Explore the top spots in
Lofoten
23 photo spots 79 inspiring images 15 contributors
---
Top places to photograph in Lofoten in 2023
These are the very best Lofoten Instagram spots, curated by the PhotoHound team. If you've got limited time here, these are the must-see locations to shoot while you're in Lofoten!
Reinebringen has one of the most emblematic views of Norway. It features mountain tops, lakes, fjords and the famous red houses of Norway.
Learn more about Reinebringen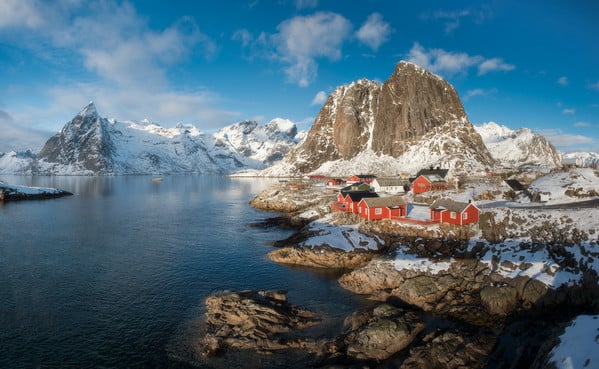 Hamnoy is another of the well known sites on Lofoten. The views from the bridge is classic for Lofoten. This location feature the typical Norwegian landscape with red houses, fjords and steep cliffs.
Learn more about Hamnoy bridge
Reine is a must do place on Lofoten. With its dramatic steep cliffs, red houses and Aurora borealis, this place is one of the most beautiful areas on the islands.
Learn more about Reine car park
Reine is known for its dramatic landscape and cozy red houses. The place is one of the top landscape and travel photography sites in the whole World. It is superb for Aurora borealis with its proximity to accommodation.
Learn more about Reine port
Svolvær (Svolvaer) is a small fishing town at Lofoten archipelago in Norway.

The town offers everything a visiting photographer needs, accommodation, restaurants, a market and photo opportunities.
Learn more about Svolvær Town
Henningsvær is a small fishing village located on the Lofoten archipelago. The village features a small harbour with fishing boats and a number of shops cafeterias and a market.
Learn more about Henningsvær Harbour
---
We hope you enjoy photographing these great Lofoten Instagram locations. We love seeing your images of the most Instagrammable places in Lofoten, so make sure to share your images on PhotoHound and tag us on Instagram @photohound and hashtag #photohound for a chance to be featured.
---
Share this photo guide
---