Explore the top spots in
Vienna
41 photo spots 157 inspiring images 1 event 7 contributors
---
Top places to photograph in Vienna in 2022
These are the very best Vienna Instagram spots, curated by the PhotoHound team. If you've got limited time here, these are the must-see locations to shoot while you're in Vienna!
People often try to photograph this famous building from the front, which is not the best idea, because the power cables of the trams clutter the shot. From the former city wall in front of the Albertina museum, there are no distracting elements and the angle of view is simply perfect.
Learn more about Vienna State Opera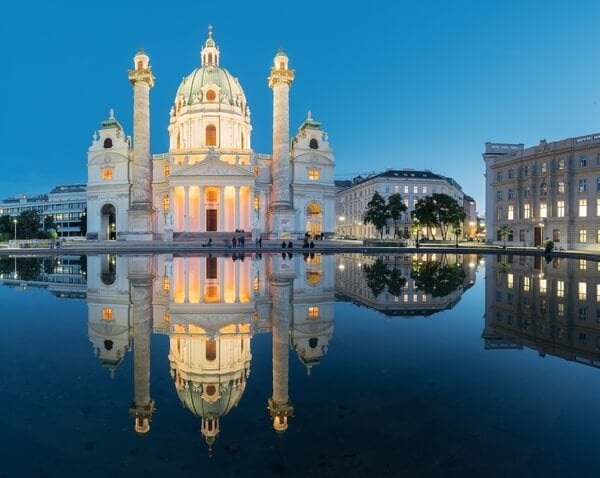 This park can be crowded, but the water basin makes it a great spot to shoot the reflection of the baroque church. One option is to walk away from the basin and use a longer focal length (150 – 300mm) to isolate some of the wonderful details of the church, especially as the first/last rays of sunlight touch the roof and pillars.
Learn more about Karlskirche
The Schlosspark Schönbrunn is pretty large and absolutely beautiful. The city puts a lot of effort into the park, as Schoenbrunn Palace is the most visited sight not only in Vienna, but in all of Austria. But don't be put off; the early bird catches the worm! If you get there after dawn you'll be fine, accompanied perhaps by the odd jogger or gardener. You can always walk in the direction of the palace along the endless pathways, exploring the park on the way.
Learn more about Palmenhaus Schönbrunn
The Schlosspark Schönbrunn is pretty large and absolutely breathtaking. The yellow front is even more intense when the first sunlight hits it.

Take at least half a day (or even a whole day if you want to visit the Zoo or the palace interior) to explore the endless pathways, many fountains, and take in all the different views of the palace. Visit May - October to see the park at its best when the perfectly planted flowers are in full bloom.
Learn more about Schönbrunn Palace
At a height of 250 meters and 60 floors, this became the tallest building in Austria when it was completed in 2013. Its unique angular design is a great example of modern architecture in Vienna.
Learn more about DC Tower
The Zoo in Schönbrunn is the oldest zoo in the world and has been repeatedly awarded the title of the best zoo in Europe. It is one of Vienna's most popular attractions, and is a fantastic place to practice wildlife photography.
Learn more about Schonbrunn Zoo
---
We hope you enjoy photographing these great Vienna Instagram locations. We love seeing your images of the most Instagrammable places in Vienna, so make sure to share your images on PhotoHound and tag us on Instagram @photohound and hashtag #photohound for a chance to be featured.
---
Share this photo guide
---