Explore the top spots in
Vancouver
29 photo spots 83 inspiring images 3 contributors
---
Top places to photograph in Vancouver in 2023
These are the very best Vancouver Instagram spots, curated by the PhotoHound team. If you've got limited time here, these are the must-see locations to shoot while you're in Vancouver!
Granville Island is a peninsula and shopping district located across False Creek from Downtown Vancouver, under the south end of the Granville Street Bridge. This is a colourful spot which has a vibrant market and many artist's studios. It is a revitalized industrial area so there are some unique architectural elements to photograph. It is also surrounded by water with several marinas full of boats.
Learn more about Granville Island
Named after Francis Brockton, it is the most easterly part of Stanley Park and is home to the now automated lighthouse. The lighthouse was built in 1914 and was designed by British Landscape Architect Thomas Hayton Mawson, who also constructed the lifeboat house located below the point and other Stanley Park landmarks.
Learn more about Brockton Point Lighthouse at Stanley Park
Located on the eastern side of downtown Vancouver, the bustling district is North America's third largest Chinatown by population, after those in San Francisco and New York. Its roots trace back to the late 1800s, when early Chinese immigrants who arrived to work on B.C.'s railroads and in the mines were settled in a ghetto on the edge of the city.
Learn more about Vancouver's China Town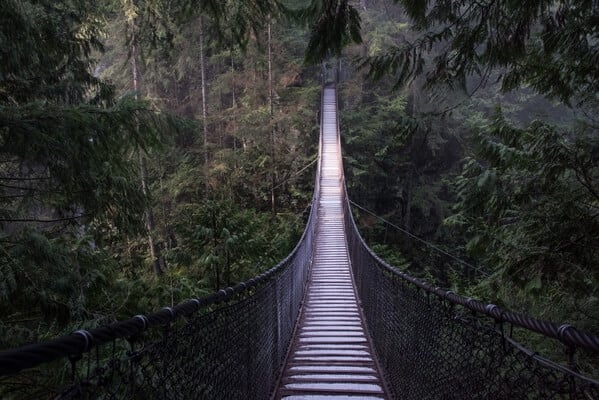 This urban park is located in North Vancouver and is well known for its suspension bridge which opened on September 12, 1912. This is a large park (250 ha) and contains many walking trails in the midst of a beautiful canyon and a lush temperate rainforest.
Learn more about Lynn Canyon Suspension Bridge, North Vancouver
You must purchase a ticket and ride the gondola to the top of the mountain. This location provides the best overall view of Vancouver and the surrounding area. It is a popular tourist area with many attractions at the top. In the summer months there are hiking trails, bird shows and a grizzly bear conservation centre. In the wintertime this is a popular area for downhill skiing and snowshoeing.
Learn more about Grouse Mountain, North Vancouver
This 75 hectare (185 acre) lush west coast rainforest is located on the coastline of the Burrard Inlet in West Vancouver. This park is home to the Point Atkinson Lighthouse and is full of hiking trails along the rocky cliffs of the coast line.
Learn more about Lighthouse Park, West Vancouver
This is an easy and rewarding shot at Vancouver's astronomy museum. It is located in Vanier park and there is a parking right out front. There is an entrance fee to go inside the museum but this shot was taken outside and is completely free.
Learn more about H.R. MacMillan Space Centre
---
We hope you enjoy photographing these great Vancouver Instagram locations. We love seeing your images of the most Instagrammable places in Vancouver, so make sure to share your images on PhotoHound and tag us on Instagram @photohound and hashtag #photohound for a chance to be featured.
---
Share this photo guide
---