Explore the top spots in
Tuscany
42 photo spots 130 inspiring images 14 contributors
---
Top places to photograph in Tuscany in 2022
These are the very best Tuscany Instagram spots, curated by the PhotoHound team. If you've got limited time here, these are the must-see locations to shoot while you're in Tuscany!
One of the classic shots from Tuscany is this view of Baccoleno Farmhouse (Agriturismo). A very nice place, they also offer rooms - with indoor swimming pool.


Learn more about Baccoleno Farmhouse
This spot is one of the most photographed places in Tuscany. It can get quite busy with groups, especially in spring when there are many photo workshops. Luckily there is more than just one spot - walk around olive grove to find an unobstructed view.
Learn more about Podere Belvedere
Chapel Vitaleta (Cappella Madonna di Vitaleta) is a small picturesque church near San Quirico d'Orcia. This is a well photographed subject from different angles.

Here you are standing in front of the chapel. Please respect the farmer's fields and don't walk into the growing crops.
Learn more about Cappella Madonna di Vitaleta (Chapel )
Poggio Covili Farmhouse (Agriturismo Poggio Covili
) has an amazing line of cypress trees leading from the main road to the farmhouse. This view from distance gives you a nice perspective with a telephoto lens. You will need at least 200mm to zoom in on the farmhouse and get a compressed view with rolling hills in the back. This shot works best in the morning with backlit scene. Mists are a bonus.
Learn more about Poggio Covili Farmhouse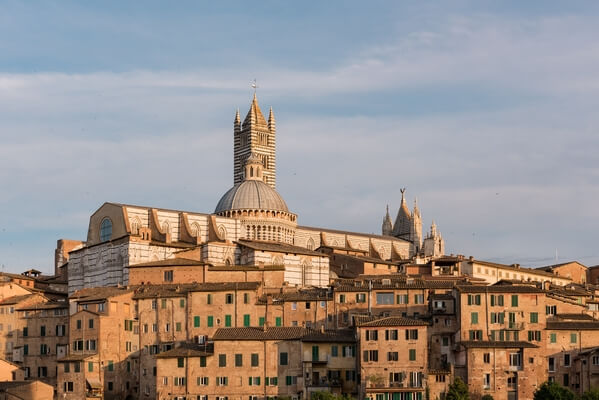 The Siena Cathedral (Duomo di Siena) is well worth a visit. Its interior is stunning, rich in details, grandeur and colours. Photography inside is allowed, but no flash or tripods. You can use wide angle and telephoto for capturing details. Most of the time you will be shooting with ISO 1600 and above.
Learn more about The Siena Cathedral Interior
In Tuscany, there are a few winding roads favourite by many photographers from all over the World. The winding road by the Monticchiello village is definitely number one (or number two) in this list!
Learn more about Monticchiello winding road
---
We hope you enjoy photographing these great Tuscany Instagram locations. We love seeing your images of the most Instagrammable places in Tuscany, so make sure to share your images on PhotoHound and tag us on Instagram @photohound and hashtag #photohound for a chance to be featured.
---
Share this photo guide
---