Explore the top spots in
Rocky Mountain National Park
50 photo spots 150 inspiring images 3 contributors
---
Top places to photograph in Rocky Mountain National Park in 2023
These are the very best Rocky Mountain National Park Instagram spots, curated by the PhotoHound team. If you've got limited time here, these are the must-see locations to shoot while you're in Rocky Mountain National Park!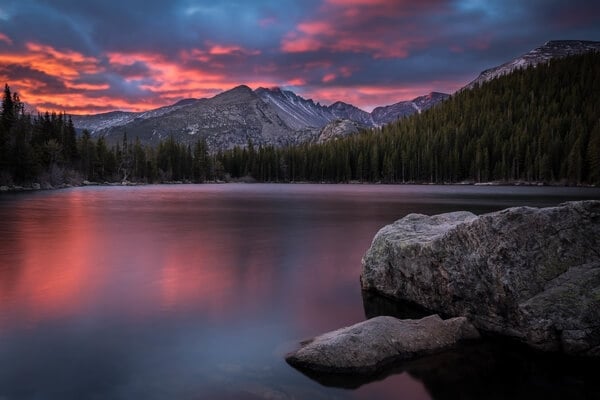 Bear Lake is probably the most visited and iconic place in Rocky Mountain National Park. From this vantage point Longs Peak, the tallest mountain in the park can be seen towering over the lake. To the west Hallett Peak looks down on the lake.
Learn more about BL - Bear Lake View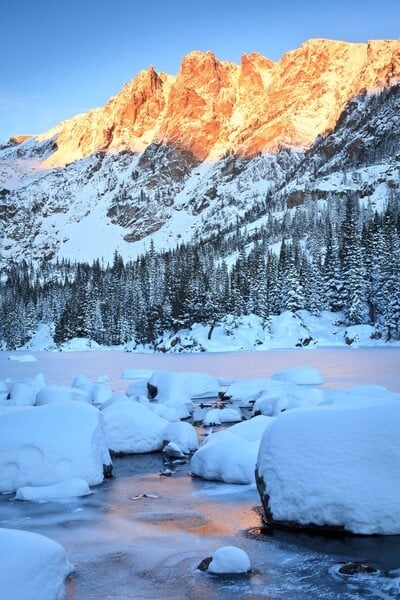 Dream Lake is one of the most dramatic viewpoints in Rocky Mountain National Park that can be easily reached. It almost feels like it was created for photographers since the long lake pulls the viewer's eyes into the photos while two spectacular peaks look down from above, Hallett Peak and Flattop Mountain.
Learn more about BL - Dream Lake
Nymph Lake is really not much more than a small pond and is often overlooked by photographers. In the past, it was often photographed at sunrise from the northeast corner looking up at Hallett Peak, but this area became so badly damaged that it is now closed to foot traffic. However the recommended location will give you a beautiful unobstructed view of Longs Peak reflecting in the still waters. Often in the middle of summer you will find lots of lily pads, sometimes with beautiful yellow flowers.
Learn more about BL - Nymph Lake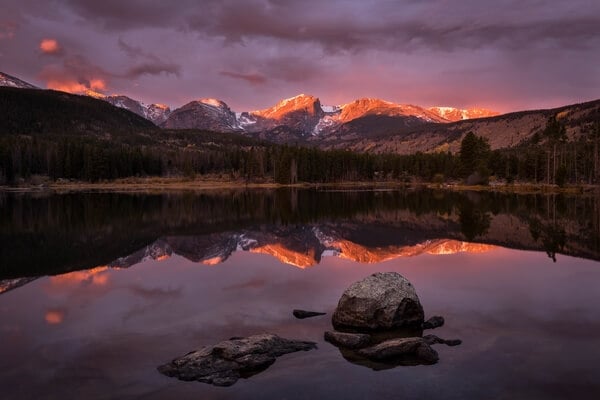 Sprague Lake provides one of the best views in Rocky Mountain National Park. It is actually a very shallow lake that was artificially created by Abner Sprague for visitors to his lodge prior to the creation of the national park. He chose the ideal location to view the stunning peaks of the Continental Divide.
Learn more about BL - Sprague Lake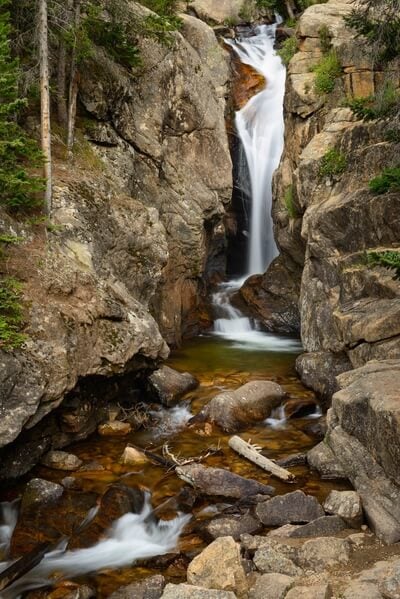 Chasm Falls is a 25 foot (7.6 m) waterfall along Fall River. In this location the rocks force the water through a narrow channel creating a small but elegant waterfall.
Learn more about FL - Chasm Falls
There is probably no place in Rocky Mountain National Park that is as dramatic as Chasm Lake. This high alpine lake lies in a basin surrounded on three sides by massive granite peaks. The Diamond, a sheer granite cliff face on Longs Peak right up out of the lake and will certainly take your breath away. At sunrise, this amphitheater often glows in an almost otherworldly fashion as the light seems to bounce from one peak to another. Being there to watch the morning light is an experience I wish everyone could have.
Learn more about HWY 7 - Chasm Lake

This area provides one of the most classic views of Longs Peak, showcasing its dramatic east face. There are options to show it towering above a large meadow, options to showcase it with golden aspen trees, the option to include a dirt road as a leading line to the peak or to include an old cabin in the foreground. You could spend quite a while getting different views of Longs Peak along this stretch.
Learn more about HWY 7 - Longs Peak from Hwy 7
The view from here overlooks a portion of the Kawuneeche Valley which comes from the Arapahoe word for coyote. The Colorado River winds its way through this valley as it begins its incredible journey southward. In the distance can be seen Mount Baker and Mount Stratus keeping watch over the valley.
Learn more about WR - Kawuneeche Valley Overlook
---
We hope you enjoy photographing these great Rocky Mountain National Park Instagram locations. We love seeing your images of the most Instagrammable places in Rocky Mountain National Park, so make sure to share your images on PhotoHound and tag us on Instagram @photohound and hashtag #photohound for a chance to be featured.
---
Share this photo guide
---