Explore the top spots in
Copenhagen
16 photo spots 94 inspiring images 7 contributors
---
Top places to photograph in Copenhagen in 2022
These are the very best Copenhagen Instagram spots, curated by the PhotoHound team. If you've got limited time here, these are the must-see locations to shoot while you're in Copenhagen!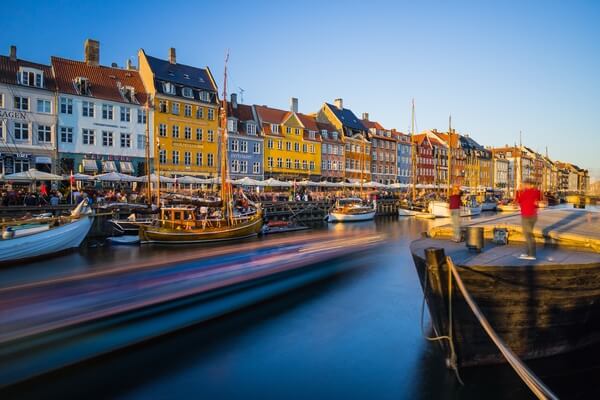 The Little Mermaid is a bronze statue by Edvard Eriksen, depicting a mermaid. The sculpture is displayed on a rock by the waterside at the Langelinie promenade in Copenhagen, Denmark. It was installed in 1909 and is only 1.25m tall.

"The little Mermaid" character is based on a fairy tale written by Hans Christian Andersen.
Learn more about Lille Havfrue (Little Mermaid) - København
Axel Towers is designed by Lene Tranberg from the award winning Danish architect firm Lundgaard & Tranberg Arkitekter. A photogenic building with an untraditional shape and metallic brown façade that blends into the existing colour scheme of Copenhagen. The golden façade cladding consists of a mixture between copper and zinc known as tombac. It is a material, which gradually changes its colour over time.
Learn more about Axel Towers
The monumental church, constructed by Peder Vilhelm Jensen-Klint in Copenhagen—in honor of N. F. S. Grundtvig. It features soft grey-yellow bricks and a minimalist, high narrow nave which create amazing photo opportunities.
Learn more about Grundtvig's Church - Interior
The Copenhagen Opera House is a modern building with beautiful architecture that was built in a former dock area of copenhagen. It was inaugurated in 2005 and lies right across from the Amalienborg Royal Palace.
Learn more about Copenhagen Opera House
Public garden which has great views of Rosenborg Castle, Copenhagen's Dutch Renaissance palace & gardens. This parkland and gardens was established in the 17th century, with lime-tree-lined paths & pavilions.
Learn more about Kongens Hace (The King's Garden)
---
We hope you enjoy photographing these great Copenhagen Instagram locations. We love seeing your images of the most Instagrammable places in Copenhagen, so make sure to share your images on PhotoHound and tag us on Instagram @photohound and hashtag #photohound for a chance to be featured.
---
Share this photo guide
---