Explore the top spots in
Bruges
19 photo spots 93 inspiring images 4 contributors
---
Top places to photograph in Bruges in 2022
These are the very best Bruges Instagram spots, curated by the PhotoHound team. If you've got limited time here, these are the must-see locations to shoot while you're in Bruges!
This Belfort Tower has a long history. It was originally built around 1280 as an addition to the main Markt as a lookout tower, communal clock, and was even the original city archive. Fires and rebuilding have dramatically changed the look of the tower over the ages (it's current "crown" design is since 1822) but it has always been an iconic part of Bruges (see the final scene of the film "In Bruges" if you don't believe me!).

Learn more about Belfort Tower
Originally a monastery garden from 1221 before being rebuilt in 1851 as a public park. Heavily influenced by the 18th century English garden styling, renowned Belgian landscaper Egidio Roseels shaped this space lovingly into one of Bruges' most treasured green spaces. Renamed in 1935 after the sudden death of beloved Queen Astrid; her bust sits in a quiet corner overlooking the local life that hangs out here daily.
Learn more about Koningin Astridpark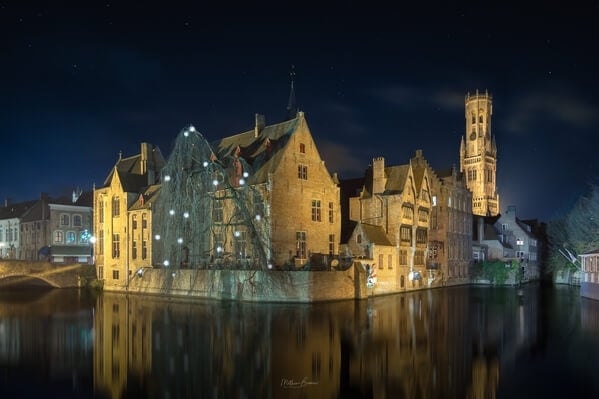 The Rozenhoedkaai is the most iconic photographic view of Bruges, plain and simple. Believed originally to have been a mooring station for 13th century salt traders, it used to be called the "Zoutendijk" (salt dunes) until the 18th century when it was renamed the Rozenhoedkai for the Rozenkransen (rosaries) sold there instead.

Learn more about Rozenhoedkaai
This former hospital was one of the first in the world to push forward scientific method to treat patients rather than relying on medieval superstition and care. "Yay Science!" basically for progress on getting proper care. It was decommissioned in 1976 and converted into a museum offering a rich variety of artefacts including hospital records, medical instruments and other works of art. Well worth a full check-up from bottom to top floor!

Learn more about Olde Sint-Janshospital
The main central square of Bruges, this location is perhaps the core area of town for activity both past and present in this fine city. Formerly the commercial centre in medieval times with street markets dating back to 875 A.D. still held Wednesdays. Expect to be surrounded by glories of classical architecture and life in the heart of the city.

Learn more about Markt Square
---
We hope you enjoy photographing these great Bruges Instagram locations. We love seeing your images of the most Instagrammable places in Bruges, so make sure to share your images on PhotoHound and tag us on Instagram @photohound and hashtag #photohound for a chance to be featured.
---
Share this photo guide
---